The uptake of electric vehicles (EVs) in Australia has been steadily increasing, and the importance of public EV charging has never been more pronounced. With already busy city streets, the importance of prioritising minimal visual impact and simple rollout of charging infrastructure cannot be overstated. 
At EVX, we recognise this need and have developed the revolutionary EVX Polecharger, a game-changer in the industry.
Pole Charging Technology Designed in Australia, for Australia
Our scalable and robust public EV charging infrastructure is designed to seamlessly integrate into local communities without major disruption to the landscape. Through strategic partnerships with Australian utilities providers, we carefully select optimal sites in collaboration with councils, ensuring a harmonious blend between charging convenience and minimal visual impact.
What sets the EVX Polecharger apart is its ability to fit onto existing utility poles, drastically reducing installation time and complexity. In a matter of hours, our unique dual EV chargers can be up and running, empowering local communities to embrace sustainable transportation solutions without compromising their neighbourhoods' aesthetics.
We understand the challenges faced by utilities providers and local governments when it comes to sustainable EV charging infrastructure rollout. That's why the EVX Polecharger has been meticulously developed to meet and exceed the stringent requirements of electrical and planning regulations. We believe in providing a future-proof solution that seamlessly integrates with existing infrastructure while paving the way for a greener tomorrow.
Why Visual Impact Matters
Aesthetics and Community Acceptance:

EV charging stations that blend harmoniously with the surrounding environment are more likely to be accepted and embraced by the community. Minimising visual impact preserves the aesthetics of the neighbourhood.

Preservation of Architectural Heritage:

Many communities take pride in their architectural heritage and unique character. We respect and conserve the architectural integrity of historic or culturally significant areas.

Property Values:

Excessive visual clutter or unsightly infrastructure can negatively affect property values in the vicinity. It's important to safeguard property values and promote positive economic outcomes.

Perception and Experience:

The successful transition to sustainable transportation relies on public perception and experience, not only for locals but visitors. Positive perception and an experience that easily integrates into a person's charging routine can promote adoption of chargers. 
Who Would Benefit from the EVX Pole Charger?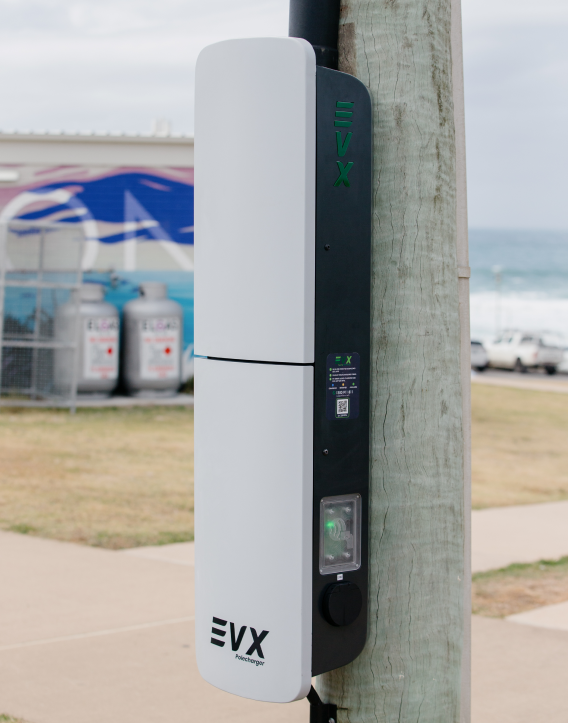 The EVX Polecharger is specifically designed for parallel street parking situations, catering to residential areas where access to off-street parking or sufficient power capacity in apartment complexes may be limited. This ensures that EV owners, regardless of their living arrangements, have convenient and reliable access to charging facilities. Not only can our EVX Polecharger benefit those who live in these high-density areas, but also those who work and play in and around these neighbourhoods, as the general need for EV charging occurs when people are parked for long periods of time, rather than quick top-ups. Public EV chargers can also be a draw for businesses in the area to attract and keep customers and employees alike. 
Key Features
The EVX Polecharger boasts dual 22kW smart charging capabilities, enabling faster and more efficient charging for EV owners. Designed and manufactured right here in Australia, it embodies our commitment to supporting local industries and innovation. With a BYO type 2 cable, user-friendly customer app (EVX), and RFID functionality, the EVX Polecharger offers a seamless and user-centric charging experience.
The EVX Approach
Rest assured, our support doesn't stop when the charging station is installed. We provide round-the-clock assistance and support to ensure a smooth and hassle-free experience for EV owners and operators.
Please see our solutions page or contact us here to learn more about the EVX Polecharger as well as other charging solutions we offer in partnership with Connected Kerb.